4 Easy (and CHEAP) Ways to Watch the BBC iPlayer in Poland
Publikoval dne 18 Listopadu, 2021
The BBC's iPlayer is a modern marvel, allowing users to take the network's pantheon of great programming as well as live sports streaming from around the world. The one hiccup in all that program goodness is that you can only use the iPlayer if you are currently located in the UK.
That's not good news for Polish fans of the BBC. Whether you're an expat living abroad or simply love the likes of "Downton Abbey". If you attempt to access the BBC iPlayer from Poland you will receive a swift proper "no thank you."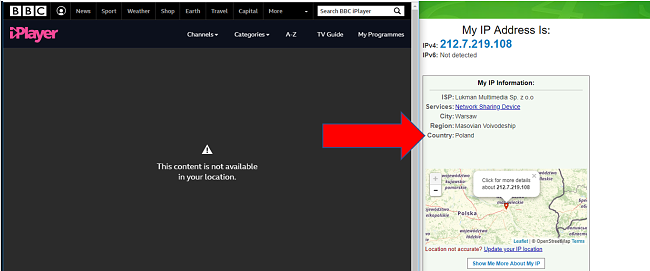 There are avenues to explore that can deliver a workaround to this geo-blocking and allow Polish residents to enjoy everything from the BBC's broadcast of the exciting football matches to the next season of "Doctor Who" without having to fly thousands of miles to access the iPlayer. Here are a few ideas to mull over.
1. VPNs
You can purchase a Virtual Private Networks (VPNs) for approximately the price of a cup of coffee (if you buy the yearly plan) . Not all VPNs can bypass the geo blocking techniques of the BBC iPlayer, NordVPN is a trusted service that is very affordable and will allow you unlimited access to the BBC iPlayer.
How do they work? By connecting your computer to a remote server located in the country you are trying to access. In this case, despite your location in Poland, you could easily connect to a remote server in UK. Doing so creates a secure 'tunnel' between your computer and the remote server that acts like a shield, preventing anyone from seeing what requests or data you are sending to the Internet. When your data reaches the remote server, it is decrypted and the requests are sent to the Internet site of your choice – in this case the BBC iPlayer site. As your data is sent along its way, you are assigned an IP address based in UK to fool the BBC site into believing you are in the UK.
Once your requests have been met by the website, the data is downloaded back to the remote server and again encrypted so that no outside party or hacker can see what you are downloading back to your computer in Poland.
Before investing in a VPN, do a thorough search to ensure you choose one that can:
Access the BBC iPlayer system consistently

Has low latency speeds to keep the streaming as crisp as possible

Has security protocols in place like no logs and includes kill switch to keep you protected should the connection drops
2. Download programs before travelling
If you are a resident or visitor to the UK and simply wish to watch your favorite shows when travelling abroad, you can download the programs to your BBC iPlayer before departing and continue to use it to watch them regardless of where you are in the world. However, there is no way to download or live stream other programming using this method. According to the BBC website, the idea of allowing UK licence fee payers to access iPlayer while abroad is in development, but being restricted by technical and legislative issues.
3. Foxy Proxy
If you use Mozilla Firefox as a browser, there is an addon that can get you online with the BBC iPlayer while you are in Poland. From the Firefox browser, locate and download the 'Foxy Proxy Basic' addon. The next step is the trickiest: finding a legal, usable IP address based in the UK. If you are a UK resident or are currently in country, you can try jotting down the address at your current location. Another choice is to do a web search for free UK IP addresses. This practice has the downside that many of these IP addresses have been flagged for exactly this kind of use and have already been blocked by most services.However, if you find one that is working, input it into the Foxy Proxy IP address field and name it 'IPLAYER'. When you attempt to use the BBC iPlayer, it should connect via this IP address as a proxy. The negative side is that your connection speed will likely be significantly lower given the high latency. This can keep streaming services unwatchable as they will continually freeze up and skip ahead.
4. MediaHint
MediaHint is another addon, although this one can be used for either Firefox or Google Chrome. It does not require any configuration, meaning that users can simply install it and start using it. MediaHint works by using a global network of proxy servers to make it impossible to see if you are in an area that is restricted from using/viewing certain content. The problem can be hitting on the right relay to emulate that you are in UK. That is the one defining quality of access to the BBC iPlayer. Formerly free, MediaHint now charges around $3/month for subscriptions
Enjoy Watching Your Favorite Shows on the BBC iPlayer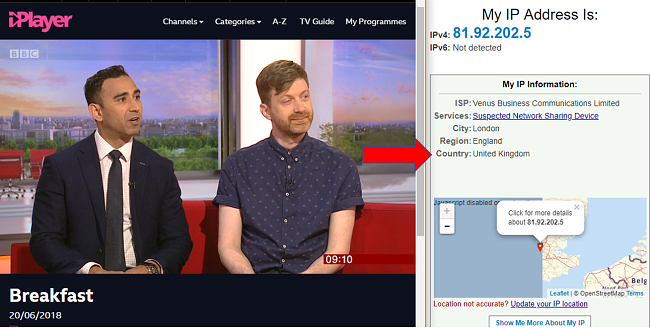 There is no reason to miss out on the content you want just because you don't happen to be in the UK. As you can see in the image above, I changed my IP Address using a VPN and can stream all of my favorite shows from the BBC iPlayer.
In addition to unblocking the iPlayer (and Netflix) a VPN will provide you with anonymity, security, and can bypass censored or blocked websites.